Julio de 2012 Página Archivo/July 2012 Archive Page:

Peak Oil News Update July 26, 2012
07.26.12 Hola. Below is the video for today's "Peak Oil News Update," 26 de Julio 2012 from the pink barrio's "what is is." First, he talks about the profit$ made by corporate oil companie$, which are outrageous.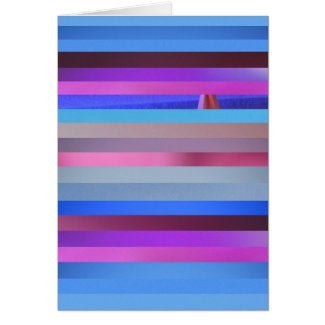 Card – Pink, Blues and Purple
by
DeanJohnsonArt
Also visit the all-new Card Salon.
(There are some pretty flowers to see in this video, by the way). Then, he touches on solar panels made in China (the solar panel industry is crashing in the Estados Unidos/U.S.). He updates on: the barges on the San Francisco Bay and Brent Crude Futures. Some noticias/news on Iraq. "what is is" shows us some current heat weather maps of the Estados Unidos and he talks about food shortages. Is anyone paying attention to this? And he updates on the petro prices near the pink barrio.
The "Tribal Peace" shirt he wore in the video can be bought by clicking on the previous link or by clicking on one of the shirts below this video. There are three different "shirts" below this video (a Hoodie, a polo and a long-sleeved T-Shirt all with the same "Tribal Peace" design from DeanJohnsonArt). So check them out, por favor. Here's his video. Chau.—rosa barrio

Tribal Peace Design Shirts from DeanJohnsonArt:
Peak Oil News Update July 23, 2012
07.23.12 Hola. It's another "Peak Oil News Update" (in the video below) from "what is is" of the pink barrio. Topics he talks about: Fuel prices are to rise in the EEUU (U.S.) and there's a reason for that, and he explains that. He updates on Brent Crude Futures. He also updates on the barges on the San Francisco Bay. Global food shortage warnings are being issued for those who are paying attention (which is probably a very small group of people). Then he shows the Denialists a map of temperatures in various regions in the EEUU. And there are some pretty flowers to see. Also, below the video are some new items from DeanJohnsonArt. They are his original designs (including from his original digital photos and some from his original acrylic paintings). A person's name can be customized on the necklace or some special text that the giver or recipient of the necklace likes. Some lovely colours. So check them out. Chau.—-rosa barrio

Original Design Name Necklaces from DeanJohnsonArt:

He has more name text necklaces at this link:
Customizable Name Text Necklaces from DeanJohnsonArt.

07.20.12 Hola. So what did you think of Univisión's Premios Juventud last night? Read more here…
Peak Oil News Update July 17, 2012
07.17.12 Hola. It's the 17 de Julio 2012 "Peak Oil News Update" from "what is is." He talks about: Mr Hope and Change We Can Believe In (Obama) approving drilling in the Arctic and a recent accident with Shell Oil. Some Ohio residents are pissed because of what's going on in their state and he explains that. He updates on Brent Crude Futures. And don't miss the LED light show in the video. He also shows us a panoramic view of the San Francisco Bay. A hummingbird appears and seems to want to be in the video, or maybe not. And "what is is" talks about the pink barrio and its purpose. Also, some pretty flowers in this video (directly below). If you're in need of some new business cards, DeanJohnsonArt has quite a selection and they are all his original designs, including designs from his original acrylic paintings and his own digital photos/images. A small selection of his business cards are below this video. Chau.—rosa barrio


Here are some business cards from Dean Johnson Art:

Paralyzed by Texting!
Hola. Are you addicted to texting? Read more here…
Peak Oil News Update July 12, 2012
07.12.12. Hola. This is the 12 de Julio 2012 edición of the "Peak Oil News Update" from the pink barrio's "what is is." Topics include: A review of the definition of peak oil. The declining economy. España/Spain and their austerity sales tax, home foreclosures in the Estados Unidos/U.S., the wildfires in Russia, the heat wave in the Estados Unidos. Also total fuel use is dropping, Brent Crude Oil Futures, the barges on the San Francisco Bay (if there are any) and the fog on the Bay. Also, petro prices near the pink barrio, some pretty flowers and don't miss the cool LED light show. It's also "raining" in the forest where "what is is" recorded part of the video. And you can check out the Card Salon in the pink barrio at that link. They have a wide selection of customizable cards, invitations and some business cards. So go check it out, por favor. Here's his video. Chau.—rosa barrio

Related:
Chauvet COLORstrip LED Wash Light
Chauvet COLORstrip LED Mini Wash Light
Original Digital Photos on Stretched Premium Canvas from DeanJohnsonArt:
Peak Oil News Update July 10, 2012
07.10.12 Hola. It's 10 de Julio 2012 and this is today's Peak Oil Noticias/News Update (in the video below) from the pink barrio's "what is is." He begins with the latest article from Paul Craig Roberts titled The Collapsing U.S. Economy and the End of the World. Then on to the weather/heat conditions in the last year in the Estados Unidos/U.S. and the consequences for our food supply. Does anyone care? Most are probably too busy texting or glued to their mobile phone to even know what's happening. Then if they were told what's happening they would likely say, "It's like, like, like, I'm like whatever." For those who don't know, the word "like" seems to be the only word in many people's vocabulary these days. "what is is" also updates on Brent Crude Futures and on the barges on the San Francisco Bay. And he updates on the price of petro near the pink barrio. He talks about the glaring hypocrisy and sickening arrogance of the Estados Unidos/U.S. when it comes to this nation's hypocritical international policies toward other nations. The policies and hypocrisy are indeed pathetic. Oh by the way, check out the invitation cards below the video, por favor. They are lovely, I think and they are new from DeanJohnsonArt. You'll love the colours. Chau.—rosa barrio

Related:
The Collapsing U.S. Economy and the End of the World
Abstract Art Design Invitation Cards from DeanJohnsonArt:
(I've said this before, but Dean Johnson has some lovely things. From what I've seen, not too many people have his talent. Many people just seem to stick any image on something and try to sell it and then they make it cookie-cutter (put it on everything they can find). I call that Tacky. These Abstract Art invitations are beautiful, I think, and he (Dean) told me that each card/item is created individually. There's no cookier-cutter mierda here. So much of what I see out there these days online especially has no colour to it. It's drab, dull, pale, plain white, no colour at all. It's as if many people don't even know what colours are these days. But these are lovely I think, such beautiful colours.—rosa barrio)
Peak Oil News Update July 5, 2012
07.05.12 Hola. Below is today's "peak oil noticias/news update" from the pink barrio's "what is is." He talks about the following: Norway's leading oil company (Statoil), Brent Crude Oil Futures, the barges on San Francisco Bay, prices for petro near the pink barrio, and rare Earth elements. There are some lovely flowers in this video. Then, one of our neighbours in the pink barrio was evicted today, apparently unable to pay the rent. The guy being evicted was crying and told the policía that he just needed one more month (I assume to have the rent dinero/money), but the Bully cop that showed up on a power trip roughly handcuffed the tenant and put him in the Bully's cop car. The owner of the building was there and asked Mr Bully Cop, "was that really necessary?" (in response to being so rough with the tenant and handcuffing). Well, the owner of the building came close to being Bullied and handcuffed himself by this thug cop on a power trip. The owner sensed what was about to happen to him and he immediately left.
The tenants possessions were thrown out on the sidewalk. Things are getting very bad here in the Estados Unidos/U.S. (for the 99%) and, among many bad things, many cops are out-of-control and they think they are above the law and need to behave like a Thug/Bully. Who's to challenge a Thug when they have a gun on them and a baton to crack your skull with? Then onto The Denialists (no shortage of them in the Estados Unidos/U.S.). And "what is is" reveals the answer to the quiz question from the previous video. Chau.—rosa barrio


Items designed for the pink barrio by DeanJohnsonArt:
Show me your papers
07.03.12 Hola. Where has one heard, "show me your papers" before? Germany in the 1930s and 1940s? Well, on 06.25.12, the Supremes (the U.S. Supreme Court, not the singers although I'd much rather be talking about the singers) made it legal for the police ("law enforcement") to ask for one's papers if one is suspected of being undocumented/unregistered in the backward U.S. state of Arizona. Of course it's ethnic profiling of Hispanos, Latinos, Méxicanos, Chicanos and other groups suspected of being undocumented/unregistered. Read more here…
These are new from DeanJohnsonArt, and also check out The Card Salon here in the pink barrio, por favor: